Shade Sails
Shade sails are a perfect solution for public spaces such as parks, shopping centres, commercial shading and schools. Individually designed to accommodate your available space our shade sails can be as simple as a three column single sail to an intricately designed multi column, multi sail structure.
Weathersafe are one of the few companies in Australia who manufacture 100% Australian Made premium quality fixed shade sails, at our factory in Adelaide, South Australia. With a 15 year warranty against UV degradation, and over 40 years experience in crafting shade sails, you can rest assured that a shade sail from Weathersafe will truly last through the harshest of Australia's climatic conditions.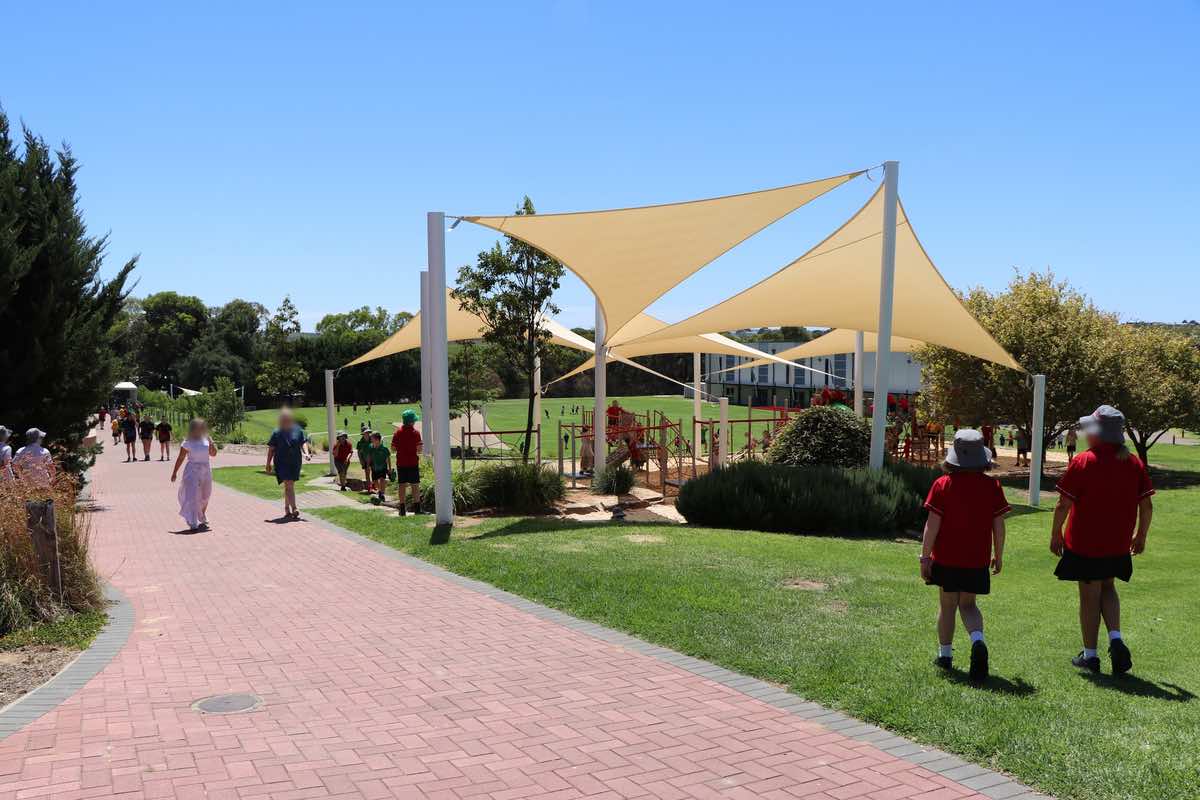 Over 40 years experience with shade sails
Our highly experienced team utilise the latest in design and fabric technology to ensure all shade sail structures are long lasting with minimal maintenance requirements. We work closely with our clients to develop the highest quality and longest lasting structure to suit their needs and budgets. All structures are hot dip galvanised and powder coated if required and use only premium fabrics and stainless steel fittings, ensuring you get maximum value for your investment.
Benefits of a Weathersafe fixed shade sail
The longest lasting and most durable fixed shade sails available
100% Australian made materials and workmanship
Over 40 years experience in shade sail craftsmanship
Up to 3 times stronger than typically available commercial shade sail fabrics
15 vibrant Monotec 370 colours to choose from, hundreds in other brands
6.5m fabric width meaning less unsightly joins (often none)
Monofilament construction maximises resistance to dirt and debris build up (less cleaning)
Heavily reinforced corners and edges
Marine grade stainless steel corner rings
Minimum fabric stretch set and forget
Individually engineered
Full 3D render available to visualise end result
Ongoing maintenance programs available to ensure longevity of your structure
Shade fabrics
We recommend Monotec 370 premium monofilament shade fabric. It's the only shade fabric manufactured in Australia, is available in over 15 vibrant colours and the strongest commercial shadecloth on the market today. Monotec 370FR fire retardant fabric is also available. Monotec is the choice of all discerning shade sail buyers looking for premium quality and maximum value for their investment. Monotec 370 offers one of the longest warranties available, 15 years, against UV degradation and manufacturing faults.
Weathersafe are suppliers of leading shade cloth manufacturers including HVG, Comshade, Gale, Rainbow shade, Abshade and more so can achieve your specific shade or budget requirements.
Waterproof PVC
Our fixed shade sails can also be constructed from waterproof materials. Whilst there are no Australian made waterproof sail fabrics, Weathersafe select a suitable European supplier to determine the best outcome for your specific needs.
Weathersafe waterproof fixed shade sails are specially crafted using the latest in 3D patterning technology, and feature heavily reinforced corners, stainless steel corner fittings, and stainless steel perimeter cable for maximum tensioning capacity.
Each PVC shade sail is specifically engineered for your application to ensure strength and durability as well as functionality. PVC sails require more strength for tensioning and apply increased force on fixing points compared to a traditional shade cloth sail. Our expert sales team will work with you to ensure your design will last and be the best solution for your area.
Typical applications
Playgrounds, public spaces, commercial shade and holiday parks
Key design advantages
Attractive shade solution with custom shade modelling, colours and sizes
Brochure
Download brochure here.